The team around Dr. Thomas Demhartner, consisting of himself, his wife Margit Demhartner, the doctor Daniela Allekotte, Jochen Stather and Volker Kamm of the company Corin has done a lot of pioneering work by using all their resources in the last 10 days in Lomé. They implanted 15 hip replacements, operated a femoral fracture and opened a huge abscess in the hip of a young woman.
Why not more operations?
Since this was our first ever hip endoprothecic mission, we first had to get familiar with the situation on the ground. So we were confronted with other diseases and a completely different bone structure, as we are used to from Germany. In addition, first and foremost we had to create the conditions on site to be able to operate within our standards. After a rough preselection of more than 500 x-ray images in advance, we examined nearly 80 patients personally in Lomé, discussed their results with them and the Togolese colleagues and then, according to current laboratory values, the X-ray and the available of our Corin prosthesis sizes, we decided who we want and can operate. Added to this are emergencies such as the 6-week old femoral fracture (which we first operated) and the abscess we discovered during the examination.
All surgeries were performed through the anterior approach, which is the most minimal burden for the patients since no muscle tissue and no tendons are destroyed. The approximately 5 - 7 cm incision heals quickly and ensures that the patient can sit again on the day of the operation and on the first day after surgery can get up with crutches again.
During his last visit shortly before departure on Tuesday morning, Dr. Thomas Demhartner could see that everyone is well and mobile again with crutches. The team of the Clinic International Dr. Kodom continues the care for the patients and they all will be able to leave the hospital by the end of November.
Our team is exhausted but also very happy to have given our patients a new life with the surgery. These people can now start working again, start a business and support their families, which was not possible before surgery. The glow in the eyes of the patients at their first steps and the "merci beaucoup" of the families makes us speechless and compensates for all the efforts we have made.
We want to help, now we know what is needed locally, how we can work there. We know that Dr. Michel Kodom with his project Aimes-Afrique supports us with all his strength and that we can count on him and his team in the Clinic International Dr. Kodom.
But we need your help! Because only through your donation such missions are possible. Our team has payed its own travel expenses, the company Corin donated the prostheses used and still we need funds for instruments, work materials, transport costs, etc. Please support our projects, we personally stand for that your donation directly treaches the patient.
Our thanks to all donors who made this mission possible, the company Corin, Dr. med. Kodom and his team on site, Margret Kopp from the Togo Hilfe PiT e.V., Andy Schimeck (Marmot / ExOfficio) and all who have supported us mentally and energetically!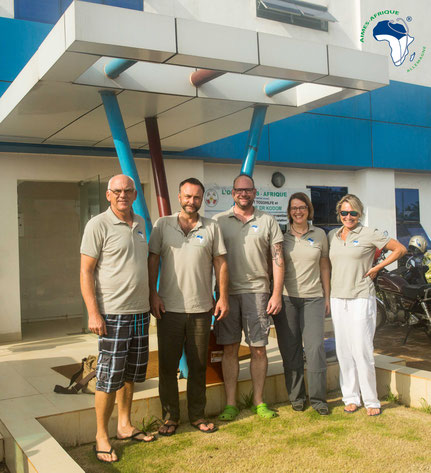 The team (f.l.t.r.) Volker Kamm (Corin), Dr. Thomas Demhartner (Kommedico), Joe Stather (Kommedico), Daniela Allekotte (Doctor), Margit Demhartner.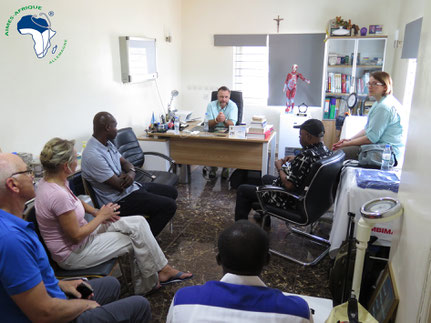 Meeting with Dr. Kodom and two professors of the University Lomé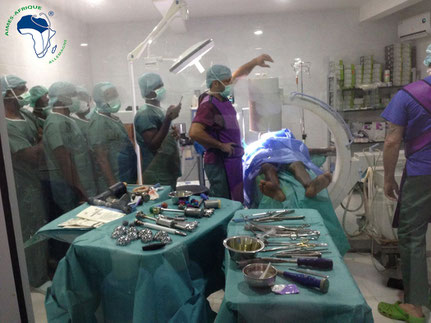 The Daltons in the bloc - Y-Ray protection in line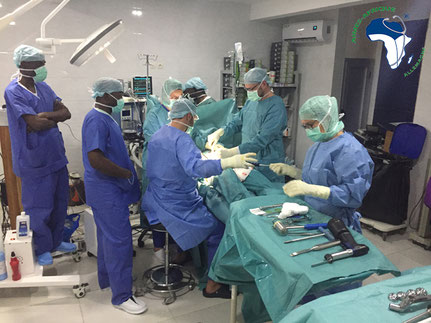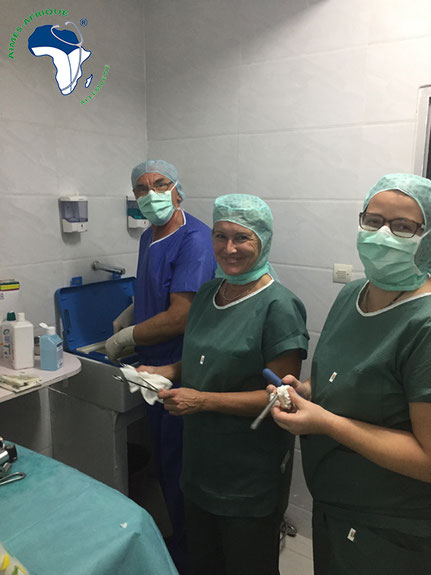 Cleaning the instruments - preparation for sterilization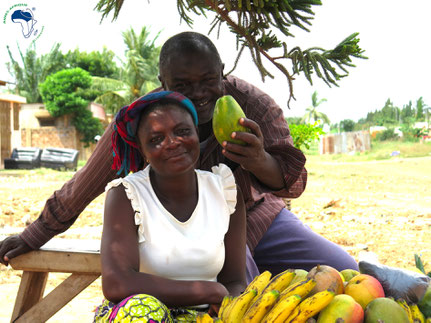 ---